What's On In Noosa:
Spend the day at one of the many attractions close to Noosa, including wildlife or theme parks, factories specialising in the production of sweet treats and sports centres.
Order your favourite drink or find a spot on a comfortable couch at an indoor/outdoor bar overlooking the river or street to sit, sip and watch the passers-by.
Indulge in a spot of shopping – pick up new beachwear and gear for aquatic activities, or call in at boutiques selling creations by local designers.
Pick up the weekend newspaper and head to a café or plan a picnic in a riverfront park and enjoy a dip in the calm waters of the Noosa River.
Hire a jet ski or boat to explore the river or board the Noosa Ferry to travel along the river between Noosa Marina and Hastings Street.
Surf on some of the best surfing beaches in the world with rolling white water waves and a minimum average water temperature of 18 degrees.
Shop at stylish boutiques, along local strips or convenient all-in-one centres. At local markets shoppers can meet the producer, stock up on fresh food or buy handmade creations.
Head outdoors into the beauty of the Noosa region. Discover reefs and beaches, islands, lakes and rivers, and the mountains of the hinterland or the manicured beauty of a Noosa golf course.
Noosa's mild year-round climate, energetic community and beautiful scenery make it a perfect setting for events of all types.
Major Events include the Noosa Jazz Festival and much more - Each year the best in their field come to present, perform, cook and compete in Noosa. Noosa also hosts a busy calendar of community events, including popular annual sporting events, local markets, concerts, fairs and more.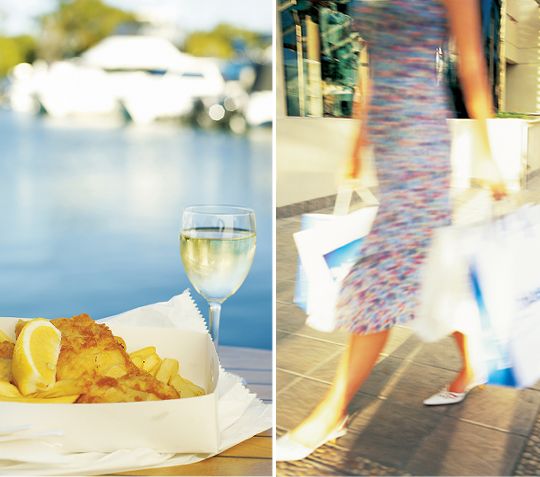 Apartments face north
All are on one level either upstairs or downstairs
Either a balcony or courtyard with a river view
Face back towards the building and carpark
DO NOT have an outdoor area or view but steps from Cayman Quays riverfront BBQ, pool and entertainment areas
Perfect for short stays or active guests who re out and about during the day